On the evening of December 28, Xiaomi's new generation of China Cup flagship "Xiaomi Mi 11" officially arrived. The biggest highlight was the world's premiere of Qualcomm's new flagship mobile platform Snapdragon 888. Perhaps the most expensive screen in history has also taken a qualitative leap. The topic of whether to send the charger or not is finally settled.
In terms of appearance, Xiaomi Mi 11 uses a lot of exquisite craftsmanship to enhance the texture, including integrated glass CNC processing monitor glass cover, sound wave design speaker opening, screen edge micro-slit sound hole, ultra-narrow design edge antenna isolation belt, and sandblasting Button edges, CD texture power button surface, etc.
There are as many as five different colors of Xiaomi Mi 11, among which black, white, and blue are AG frosted glass, weighing 196g, and the thickness is 8.06mm. The smoked purple and khaki are plain leather back cover, weighing 194g, and the thickness is 8.56mm. The interior is still used The smaller 01005 capacitor and inductor patch has made the motherboard volume reduced by 3/4.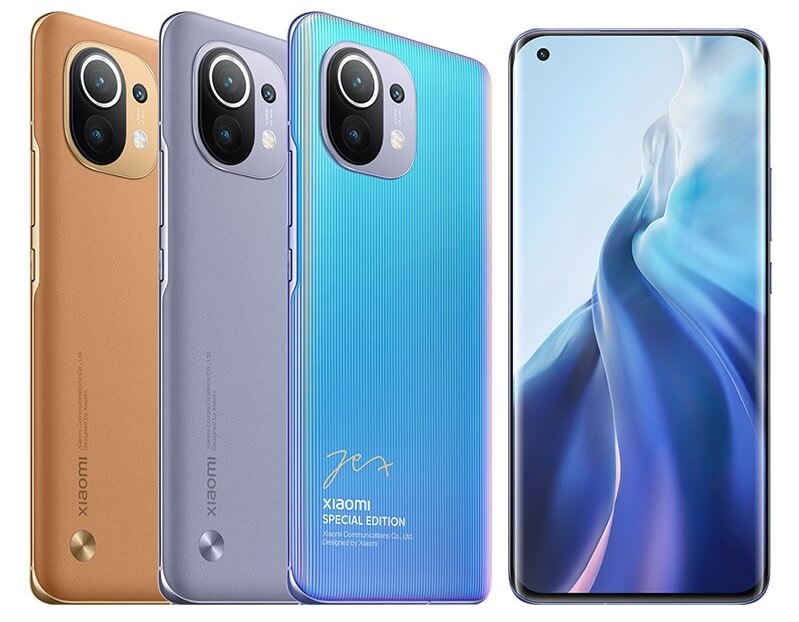 The screen is a 6.81-inch four-curved full screen, the resolution is increased to 3200×1400, the dot density is 515PPI, it supports the DCI-P3 color gamut, and uses the latest E4 luminescent material. The brightness is up to 1500 nits, and it can also be used under strong light. It reaches 900 nits and supports 8192 levels of brightness adjustment, which is higher than the commonly used E3 data and lower power consumption.
Support 120Hz refresh rate, 240Hz touch sampling rate, ultra-high color accuracy, 1 billion color display, DisplayMate evaluation gave the highest A+ level, claiming to redraw 13 records, the official comment: "Xiaomi 11 has the world's top smartphone screen The screen, the textbook-like perfect calibration accuracy and display ability are extremely impressive, and it can be said to be very close to perfect."
The screen is the first point of Xiaomi Mi 11. Lei Jun said that the Xiaomi Mi 11 screen is the most expensive screen in the history of Xiaomi mobile phones, and it may also be the most expensive screen in the industry. Xiaomi Mi 11 uses a 6.67-inch Samsung AMOLED quad-curved screen, a 2K screen, supports a high refresh rate of 120Hz, and a touch sampling rate of 480Hz.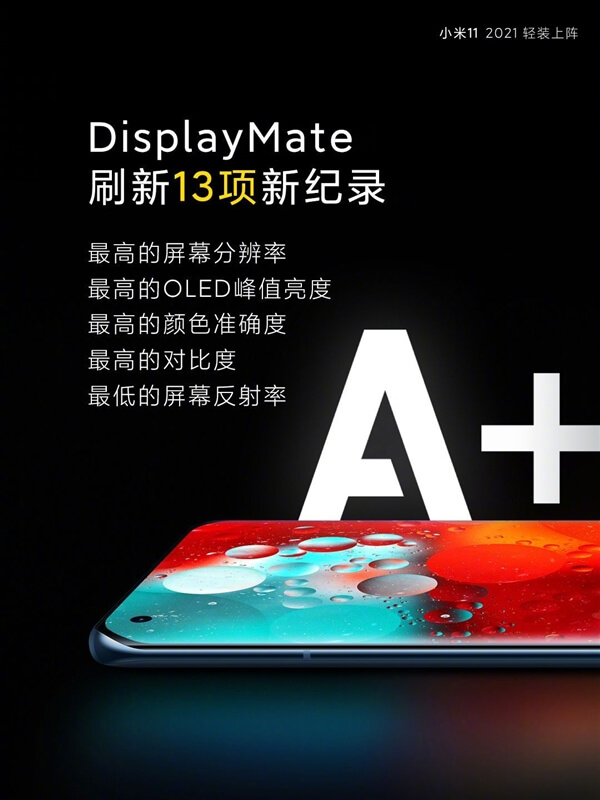 According to reports, this screen has a peak brightness of 1500nits and supports 1 billion color displays. The screen was evaluated by A+ by DisplayMate, a third-party testing agency, and 13 new records were redrawn. Since this screen is the most expensive in the industry, Xiaomi has equipped it with the strongest Corning Gorilla Glass, which has improved its drop resistance by 50%, its drop resistance by 1.5 times, its abrasion resistance by 2 times, and can resist drops from a height of 2 meters.
In other aspects, the built-in AI master image quality engine supports super-resolution display enhancement, AI smart scene optimization, video image quality enhancement, and dynamic picture compensation. There are two built-in grip sensors on the top and bottom to monitor the grip status in real time, and use the gyroscope to intelligently judge the anti-mistouch area. Continue to use the ultra-thin optical fingerprint recognition under the screen, the brightness of the fingerprint area at night is as low as 110 nits, and even supports heart rate monitoring. The heart rate can be measured by gently pressing the fingerprint module for 15 seconds with an average error of 2.11bpm.
In terms of performance, the world's first Qualcomm Snapdragon 888, 5nm process, the first commercial X1 super core, the highest frequency is 2.84GHz, with a full blood LPDDR5 memory, the frequency is 3200MHz, the data transfer rate is 6400Mbps, and UFS 3.1 flash memory, Wi -Fi 6 wireless network, the ultimate throughput rate is 3.5Gbps.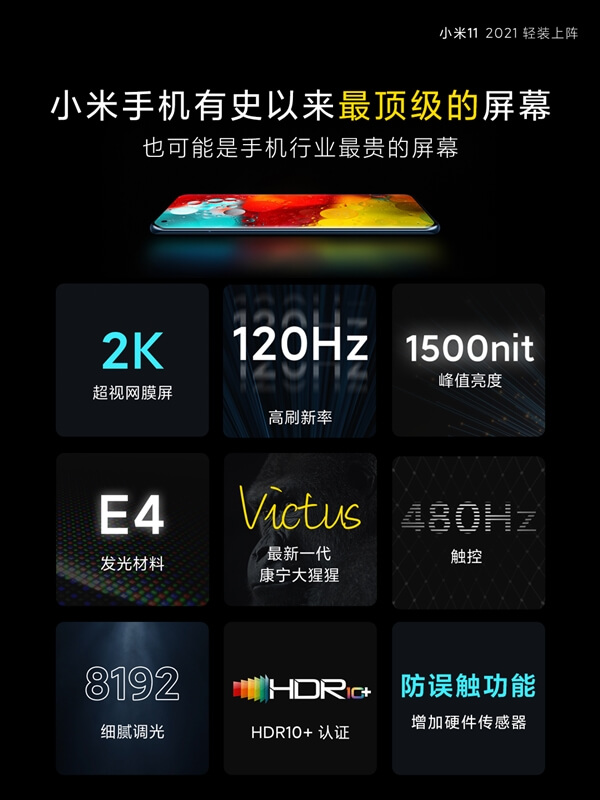 In order to suppress powerful hardware, Xiaomi Mi 11 uses a VC liquid-cooled three-dimensional heat dissipation system. A large-area VC soaking plate covers heat sources such as SoC and power management chips. It also has built-in new ultra-thin aerogel thermal blocking materials, a large amount of graphite, and copper. Foil, thermal gel, multi-point monitoring sensor.
As for the camera, it has three rear cameras, the main camera is the classic Samsung HMX 100 million dots, a 1/1.33 inch outsole sensor, supports 1.6 micron quadruple dots, OIS optical image stabilization, 7P lens, and 123 A 13 million-point ultra-wide-angle lens, a 50mm focal length telephoto macro camera. The front is a 20 million-point ultra-micro lens, a patented ultra-small lens module, which reduces the screen opening and supports large wide-angle panoramic group photos. In terms of camera gameplay, Xiaomi Mi 11 has added super night scene video, master movie camera filter, movie lens, magic change and upgrade.
The battery capacity is 4600mAh. It supports 55W wired fast charge (full charge in 45 minutes), 50W wireless fast charge (full charge in 53 minutes), and 10W wireless reverse charge. It is worth noting that the Xiaomi Mi 11 package is available in two versions. The standard version does not include a charger and data cable, and the package version comes with a 55W GaN charger and data cable worth 99CNY at the same price.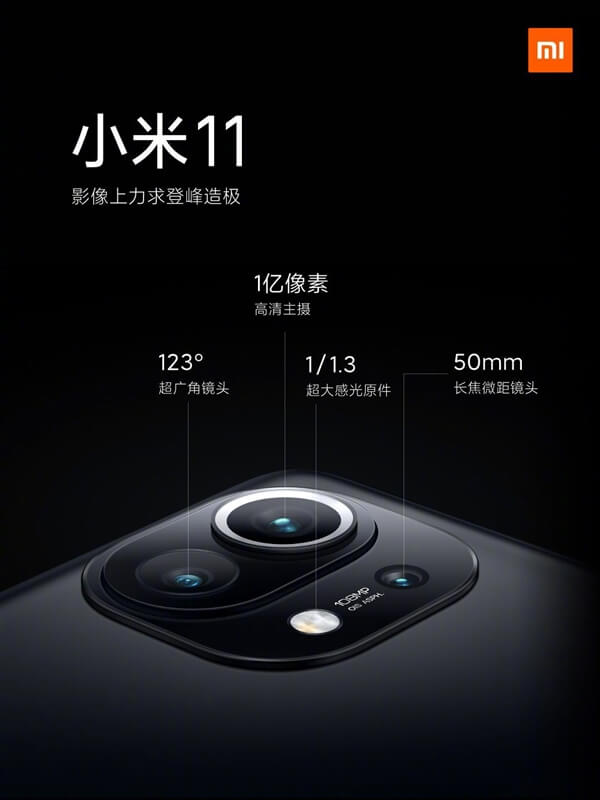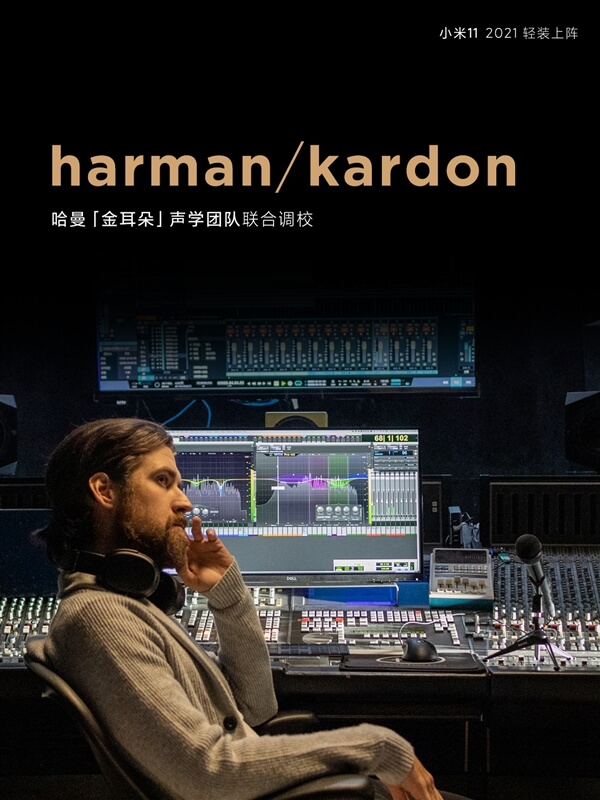 Three-dimensional two-in-one speaker, 1216 super linear unit, intelligent scene recognition, professional tuning by Harman Kardon, Hi-Res certification, and equipped with self-developed recording noise reduction algorithm.
What's interesting is that Bluetooth can output two data streams at the same time, connect two Bluetooth speakers to form a body sound or two Bluetooth headsets, support Bluetooth sound transmission, and talk to the microphone can be shared to the Bluetooth speaker for playback.
Needless to say, other things such as X-axis linear motor, dual-frequency GPS/Beidou navigation, full-function NFC, infrared remote control and so on.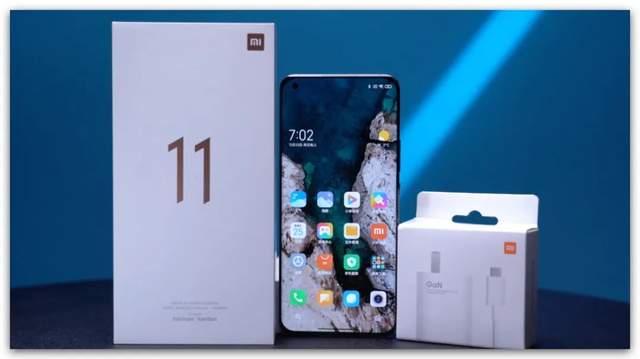 In terms of price, Xiaomi Mi 11 is still starting at 3999 CNY, which is exactly the same as the previous generation, and offers two options, the standard version without charger and data cable, and the package version with 55W GaN charger and data cable, at the same price.