Xiaomi Mi 10S was released last week . The processor, appearance, fast charging, and speakers were upgraded on the basis of the original Mi 10. The starting price is 3299 yuan, which is quite conscientious, mainly to make up for the vacancy of Xiaomi's 3000 CNY price. In addition, the Xiaomi 11 Star Diamond Gift Box version was recently released, which brought surprises to girls.
Although both the flagship phone and the upgraded version of Xiaomi Mi 10 are available, high-end products and mid-range phones are still in a vacant state. Recently, the news of Xiaomi 11 Pro, Xiaomi 11 Ultra, and Xiaomi 11 lite finally came out on the Internet. , The release time and some parameters have been exposed. Friends who are pursuing black technology and high cost performance are expected to have a new choice in March.
According to the news, the Mi 11 series of Mi 11 Pro and Mi 11 Ultra series have been approved for network access . Combined with the current news broke. The front of Xiaomi 11Pro and 11Ultra is no different from Xiaomi 11. It will use a 6.81-inch 3200×1440 resolution E4 material four-curved hole screen, support 120Hz refresh rate, equipped with a three-piece set of Snapdragon 888 processor + LPDDR5 + UFS3.1 flash memory.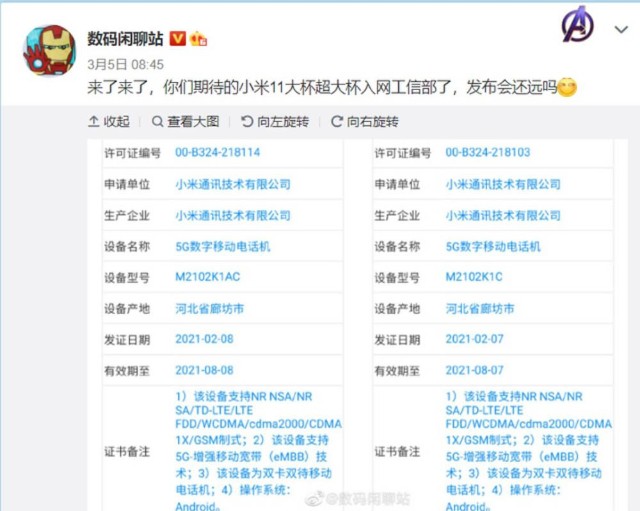 The main difference between Mi 11 Pro and Mi 11 UItra is the rear lens module. The lens module on the back of the 11Pro is slightly larger. The main camera is 50 million pixels Samsung GN2 sensor + 20 million pixels effective focal length ultra-wide-angle lens + 8 million pixels + periscope telephoto lens, supporting up to 50 times digital zoom; while Xiaomi 11Ultra uses the main camera 50 million pixels IMX766 Sensor + 48 million pixel angle lens + 48 million pixel 5x periscope optical zoom, up to 120x digital zoom, of which two 48 million pixel lenses are IMX586, it seems to be three flagship cameras. In addition, Mi 11 Ultra is also equipped with under-screen fingerprints, IP68 waterproof, and dual 67W fast charging.
And quite interesting is that the right side of the camera module on the back of the phone comes with a secondary screen that can provide screen mapping, similar to Meizu's previous "Smart Window" design in the Pro 7 model. It is not clear what functions the screen has. From the exposure map, it seems that Smart Window can display the entire mobile phone desktop and can also be used as a rear Selfie. In other respects, the battery capacity of both Xiaomi 11Pro and Xiaomi 11 Ultra is 5000mAh, and supports 67W wired fast charging (some people also show that 11 Ultra supports 120W wired fast charging). As for wireless fast charging power, 11 Pro is 50W, and Xiaomi 11Ultra is 67W.
At present, there are many renderings of Xiaomi 11 Ultra. It can be seen that it will bring greater breakthroughs in selfies and photography. In terms of release time, some bloggers speculated that the Xiaomi 11 Pro series conference will be around March 25th, and now there are The news will come out on the 30th, in short, the new machine will most likely be released at the end of the month.
Recently, a new phone from Xiaomi has officially entered the network, the model is M2101K9. The code name of Xiaomi 11 was "K2" before, so it is guessed that this phone is related to Xiaomi 11, it is likely to be Xiaomi 11 youth version , and the body measurements are very attractive. Attention, it is 160.5375.726.81, yes, the thickness is only 6.81mm, which is very slim in 5G mobile phones.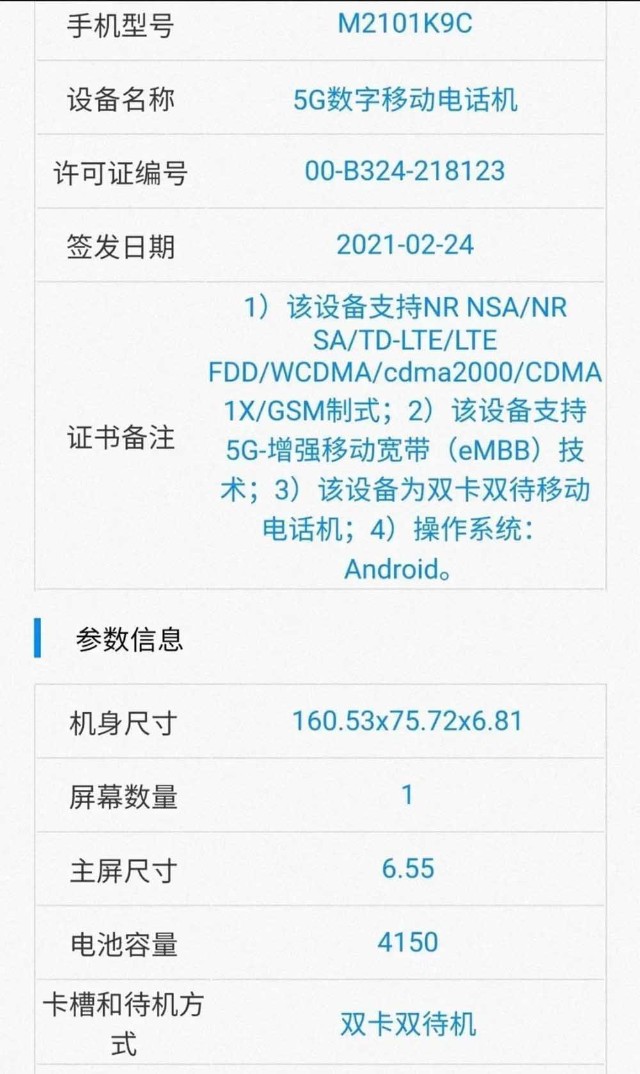 As for the appearance of the new phone, it was revealed in the morning that it uses a 6.55-inch OLED straight screen that supports a 120Hz refresh rate and has a punch hole on the left. The back is a mirror design, and the rear module is similar to the Xiaomi Mi 11. It is reported that it is equipped with a main camera of 64 million pixel lens + 8 million pixel ultra-wide-angle lens + 5 million pixel lens. The details are plastic frame + side fingerprints.
In terms of configuration, the machine is expected to be equipped with the Snapdragon 775G chipset. The Antutu score is about 530,000, and it supports up to 33W fast charging. At least 6GB+64GB and 6GB+128GB are available in two versions, regardless of the slim body. But it has added a 4150mAh battery, which is even better than the previous generation. In addition, Xiaomi 11 lite has a 4G version, but it is likely to focus on overseas markets and will use Snapdragon 732G, and all aspects of configuration may also decline.
According to overseas media reports, the price of 6GB+128GB is about RMB 3200, which looks more expensive, but you can rest assured that Xiaomi is cheaper in China than abroad. The new machine will also be released together with Mi 11 Pro and Mi 11 Ultra.
However, there is also news that Xiaomi Mi 11 lite will be released in April.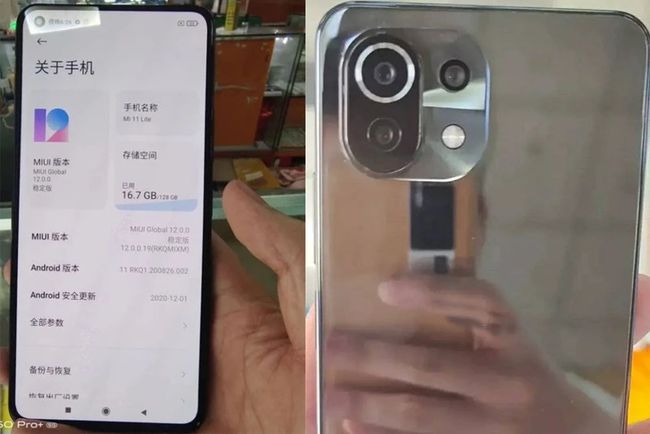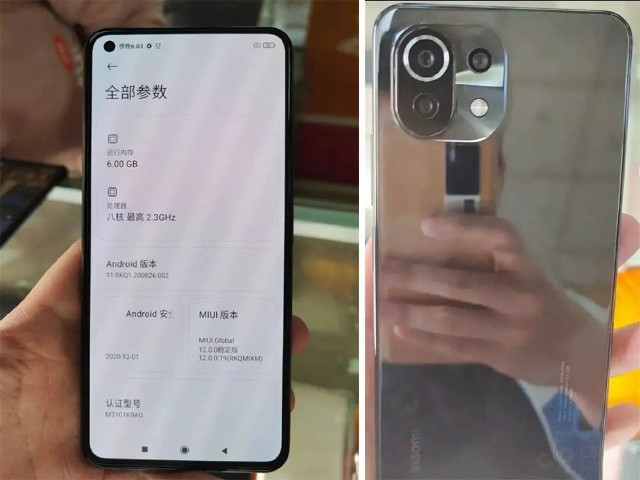 Related Reading:
Mi 11 Pro rear camera structure exposed: super-large module with small secondary screen
Two models of Xiaomi 11 Pro are certified: 67W fast charge as standard