On the evening of December 10, OPPO officially released the OPPO Reno5 series. The product focuses on thin and light and portrait video shooting. At the same time, OPPO officially restarted its endorsement sales strategy.
The OPPO Reno5 series all have crystal diamond craftsmanship in the color of the Galaxy, bringing a variety of fashionable colors such as Galaxy, Aurora Blue, and Moonlight Black. Among them, the Galaxy version is undoubtedly the most shining one. Under the illumination conditions of different light sources, the body can show different colors, and even each viewing angle has a different color, which is full of coolness. In particular, OPPO Reno5 Pro uses luminous material on the camera protection cover and the top injection belt, which is quite recognizable in the dark.
OPPO Reno5 is an entry-level product, with a 6.43-inch straight-board digging screen, a wider bottom frame, and a 90Hz refresh rate. It is 7.9mm thick and weighs 172g. It feels very comfortable with the straight screen. Equipped with Snapdragon 765G mobile platform, rear-mounted 64 million points four cameras (2 make-up cameras). 4000mAh battery, 65W fast charge. The price starts at 2699CNY.
The OPPO Reno5 Pro is not much different from the previous generation in hardware. The same 6.55-inch single-drilled curved screen, 90Hz refresh rate, the shape and feel are basically the same. The rear is the same as OPPO Reno5, but there is a bigger upgrade on the portrait video calculation. But the chip uses MediaTek Dimensity 1000+. The charging aspect is still OPPO 65W's private protocol fast charging. The price starts at 3399CNY.
The highest-end OPPO Reno5 Pro+ will be released on Christmas Eve, positioning the second flagship product.
The configuration and design of the OPPO Reno5 series coincide with the Reno3 series and Reno4 series to varying degrees (for example, 3 Pro/4 Pro/5 Pro/5 Pro+ use the same screen; 3/4/4 Pro/ 5 all use the same processor; 3/5/5 Pro all use the same imaging system), which inevitably makes people feel suspected of clearing inventory.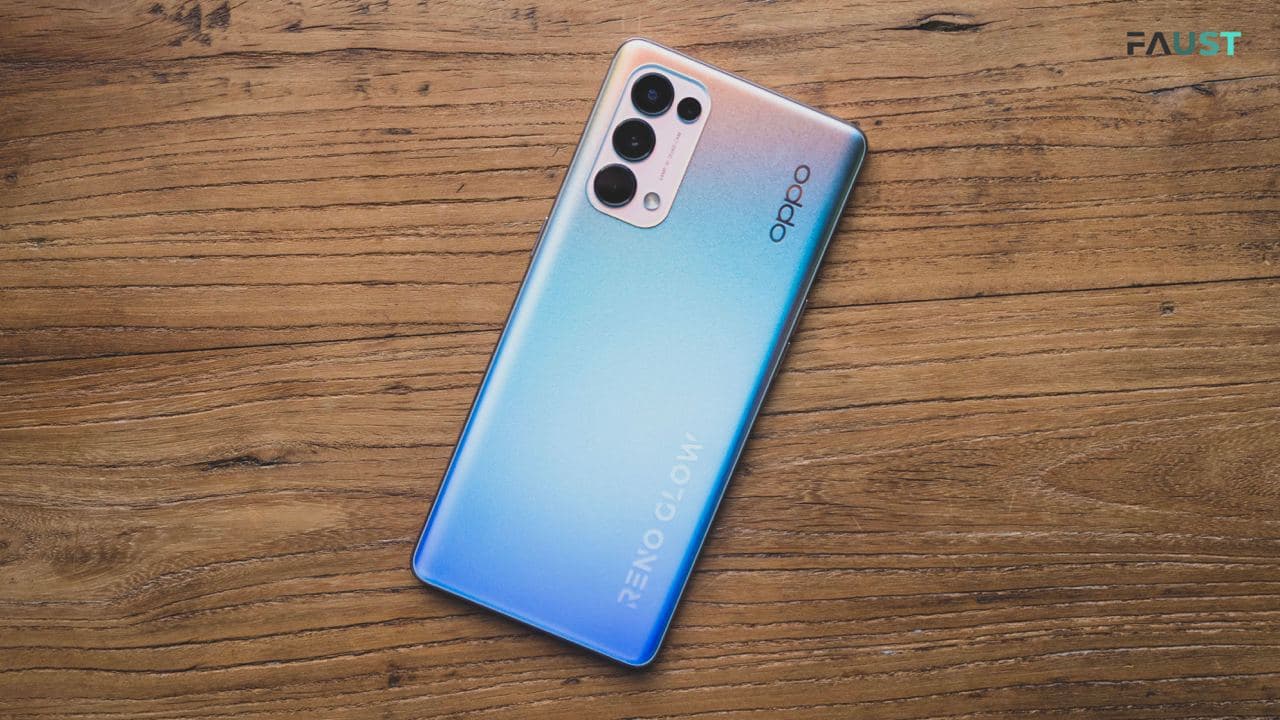 In terms of imaging system, the OPPO Reno5 series has a front 32 million-point water-light lens and a rear 64 million-point water-light four-shot. Whether it is photos or videos, it can shoot more clearly and transparently. Its 32 million points front camera supports video super anti-shake, AI radiant video beauty and AI video enhancement technology.
The 64 million point water-light portrait four-camera system consists of a 64 million point main camera, an 8 million point ultra-wide-angle lens, a 2 million point retro portrait lens, and a 2 million point macro lens. It supports video super anti-shake, AI beauty Color, AI video enhancement and other functions.
OPPO Reno5 Pro uses a new generation of star diamond technology body, using a "pyramid" crystal structure, a single crystal has a larger reflective area, which is brighter than the previous generation, and has a stronger sense of color transparency. At the same time, the special "pyramid" crystal structure of the star diamond process has strong hydrophobicity, allowing water droplets to slide on the surface of the fuselage, leaving fingerprints and oil nowhere to hide.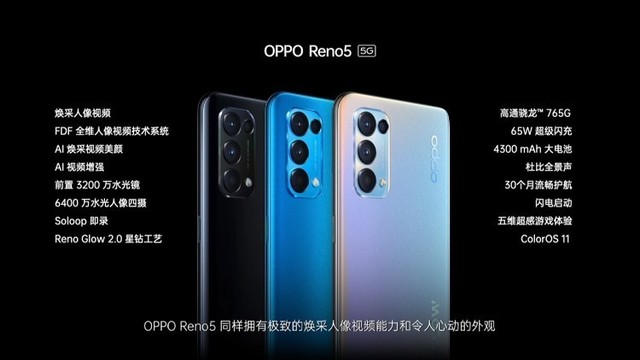 In terms of battery capacity, all OPPO Reno5 series are equipped with OPPO 65W super flash charging technology, which charges faster, so that we can make full use of the fragmented time in life and work to charge it. For example, if we forget to charge the Reno5 series before going to bed at night, it doesn't matter. We only need to use the morning washing time to charge enough electricity for half a day. OPPO Reno5 Pro houses a 4350mAh large battery in a slim body of only 7.6mm, which is a significant improvement over the previous generation. At the same time, OPPO Reno5's built-in battery capacity has reached 4300mAh, which is sufficient for a full day of battery life in normal use.
In terms of specifications , the OPPO Reno5 series are equipped with highly integrated dual-mode 5G chips, and are compatible with SA/NSA two 5G networking modes, covering the world's mainstream 5G frequency bands. In addition, functions related to the actual gaming experience such as 90Hz refresh rate, 180Hz touch sampling rate, three-dimensional liquid cooling, and sixth-generation screen fingerprints are not absent on the OPPO Reno5 series.
At the end of the year, the OPPO Reno5 series will be mid-to-high-end products against the Mi 11 series that will debut Snapdragon 888 and the vivo X60 series of Exynos 1080, and the flagship OPPO Reno5 Pro+ will be postponed. It is difficult to gain an advantage in online sales. . But the attractiveness of series products to offline groups can be expected. At present, there is still some distance from the products recognized by online and offline users.