In 2021, more and more flagship mobile phone screens support 2K resolution and 120Hz high refresh rate at the same time. Although this brings us the ultimate high-definition and silky experience, the power consumption of mobile phones is often high. Therefore, the battery life issue is once again taken seriously by everyone. OPPO's latest flagship Find X3 Pro is also equipped with the Snapdragon 888 processor and 2K+120Hz screen, two major power consumers, but it is supported by three major software and hardware technologies. While ensuring sufficient battery life, the visual experience is not compromised.
First of all, in terms of the screen, the OPPO Find X3 series adopts a new LTPO hybrid backplane technology, which can realize a truly intelligent dynamic frame rate. It can adjust the refresh rate of 120 gears in the range of 1Hz-120Hz without any sense, and better balance the high refresh rate and power. Consumption.
In terms of system, OPPO Find X3's CPU bin adjustment will be carried out according to different scenarios, customized scheduling for mainstream games such as "Glory of the King" and "Peace Elite" to ensure smooth game response; for high-frequency apps such as WeChat and Taobao, guarantee Swipe browsing is more user-friendly; for daily apps such as browsers, Douyin, and Kuaishou, the wired dispatch core ensures the balance between power consumption and fluency. In the end, it will be smooth and not hot, and Facebook will save more power.
According to the author's actual measurement data, after the three-hour heavy battery life test, OPPO Find X3 Pro finally consumes 55% of the remaining power. It is not a problem to use it for a day at moderate intensity. It can be seen that OPPO Find X3 Pro has a substantial increase in hardware specifications, while the power consumption is indeed The control is quite good. During the test, the application opened quickly, the operation was smooth and there was no lag, and the two games also kept running at full frame almost at the highest quality.
The third trick to ensure battery life is OPPO's 65W super flash charge. The measured Find X3 Pro can charge from 0 to 44% in 10 minutes. It only takes 28 minutes to fully charge. It takes less than half an hour to go out with a fully charged phone. , No longer have to worry about forgetting to charge and delaying the trip. At the same time, the Find X3 series is also equipped with a 30W wireless flash charging that can be fully charged in 80 minutes as standard, and the fast charging options are more free.
It can be seen that the OPPO Find X3 series relies on three major software and hardware optimizations to provide the strongest performance and display effect, while also having quite excellent battery life performance, allowing us to enjoy the ultimate experience without worrying about the battery. It can be regarded as an ideal work that tends to be perfect.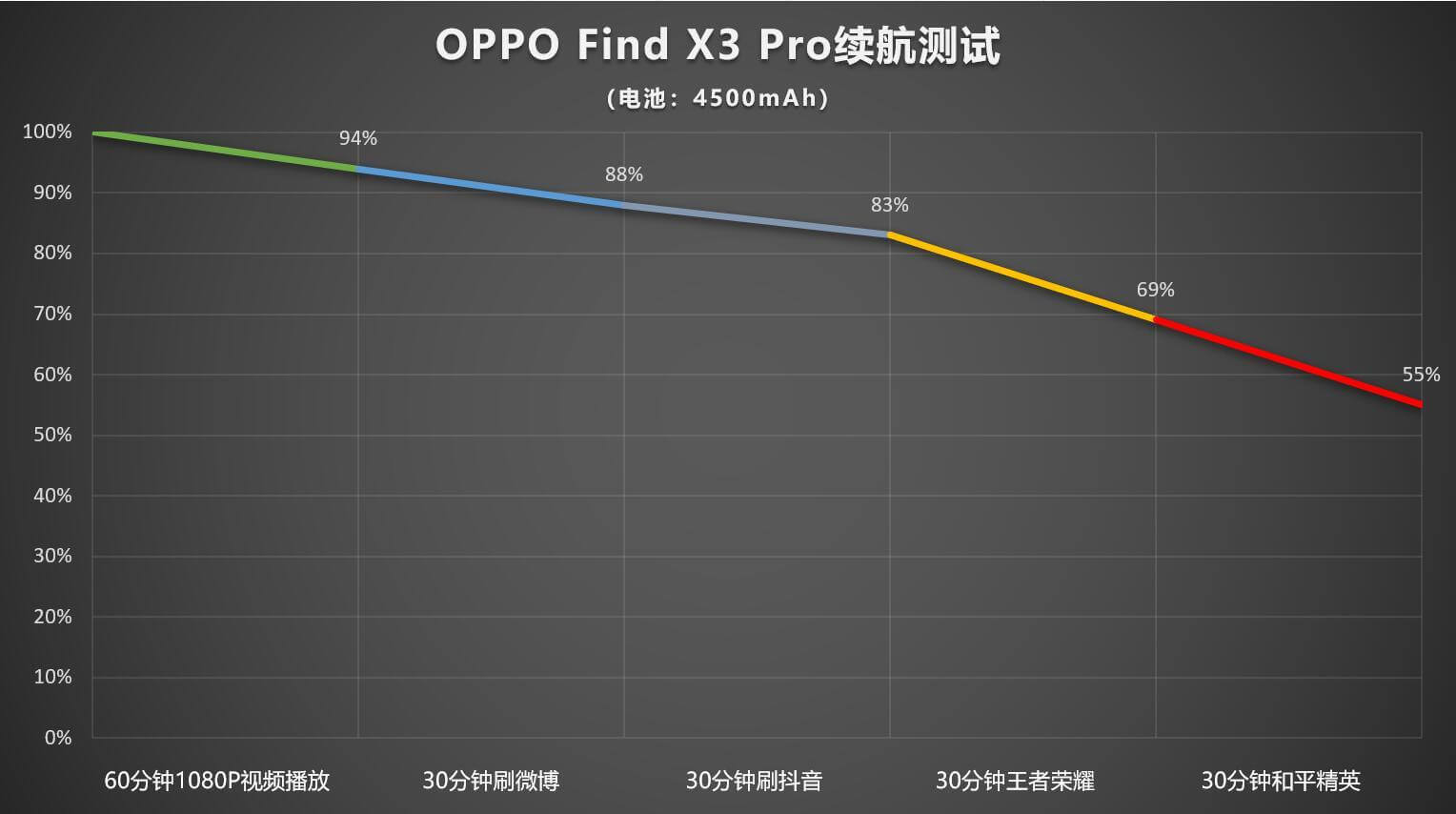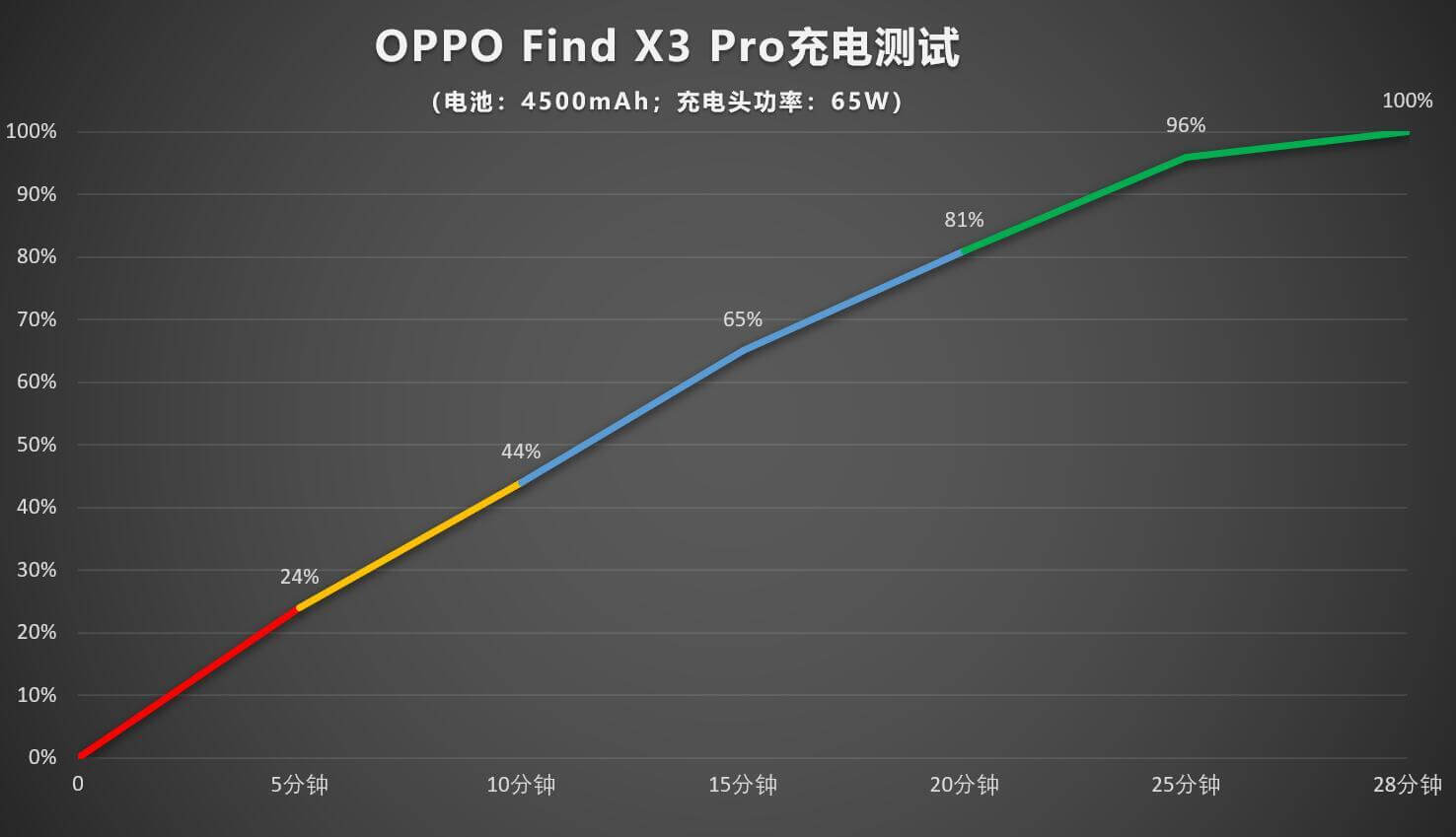 Related Reading:
OPPO Find X3 series is officially released, using full-link color management system to achieve 10bit color depth
What upgrades can the Full-path color 10bit bring to the mobile phone experience