On December 23, Huawei officially released the new Huawei WATCH FIT at the HUAWEI nova8 new product launch conference . This is Huawei's first square-shaped light smart sports watch. It is mainly for young people, women and active light fitness enthusiasts, with a light body. And personal training on wrist sports.
Huawei WATCH FIT is equipped with a 1.64-inch AMOLED colorful large screen, weighs only 21g, supports animated fitness personal training, 96 sports modes, and also has various health management functions such as heart rate, blood oxygen, sleep, and stress monitoring. The independent GPS carries Huawei WATCH FIT to get rid of the shackles of the mobile phone. It can record all the data even without the mobile phone during exercise. You can also check the effect of the exercise on the watch when you pack it lightly. It can be said that this is a smart watch with a "light life" concept.
At the beginning of smart watch design, it is necessary to solve the problem of wearing comfort first, and "lightness" is the most critical. Thanks to the compression of space design and the application of lightweight materials such as reinforced polymer fibers, the weight of Huawei WATCHFIT's watch body is compressed to 21g, and the weight of the watch strap is less than 34g. The weight is equivalent to that of a sports brace, ensuring comfortable wearing.
The best wearing experience of smart watches should be unconstrained and burden-free. Even the most beautiful design, if it is uncomfortable to wear, it will make people disgusted. This time the new product focuses on "lightweight", which is precisely because of the user's consideration. demand.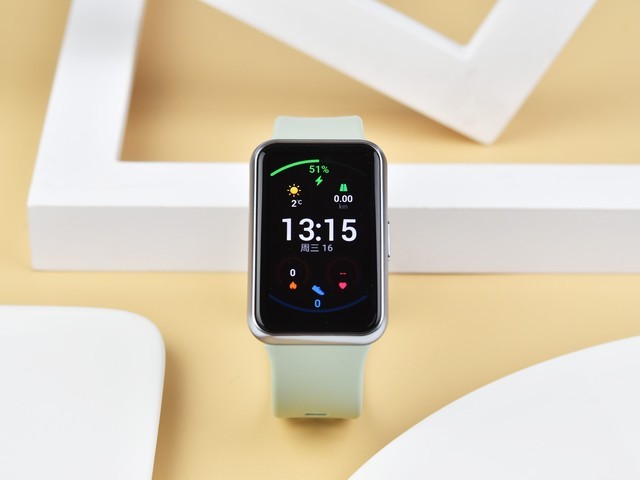 In addition, Huawei WATCHFIT verified through a large number of wearing experimental data, and designed the dial width to be 30mm, so that users will not be able to hold hands when bending the palm, taking into account the wearing experience and display effect.
Just like mobile phones, the appearance of smart watches is also the primary productivity, and even more important. The watch is worn on the wrist, it is more like an ornament, so it must not only be easy to use, but also simple and beautiful.
Different from the "square" design on the market, this new product uses a unique aspect ratio design, with ultra-narrow bezels and colorful straps, which are beautiful in appearance and highly recognizable. The surface of the Huawei WATCH FIT screen is covered with a whole piece of 2.5D glass, a large 1.64-inch AMOLED screen, with 456*286 dots, 326PPI, 16.7 million colors full-color display, and the display effect is sufficiently delicate. With a 70% screen-to-body ratio, with a dark dial and background, the presence of the frame is not strong visually.
In order to ensure simplicity and integration, the whole machine only retains one function key on the right side, and the pressing feel is simply and neat. As for color matching, Huawei WATCHFIT provides four different styles of color matching, fresh mint green, elegant cherry powder, passion melon orange, and mysterious obsidian black. The colorful color matching can meet the preferences of different people and is more in line with the aesthetics of young people.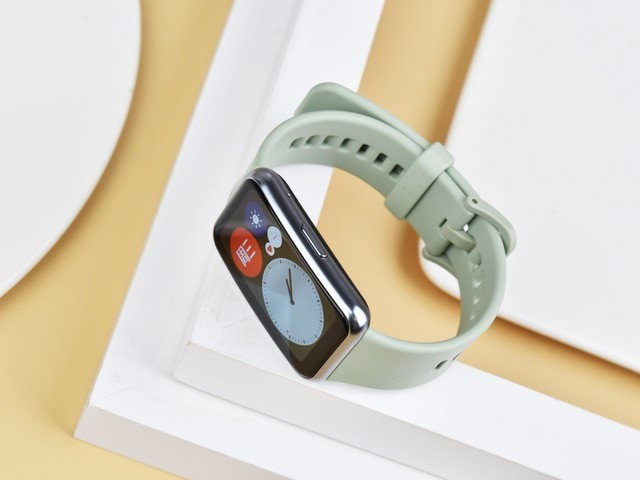 On the whole, as a sports watch, Huawei WATCH FIT has a lightweight and practical body, stylish design, and high appearance. For young users, it can complement their youthful vitality and public personality.
Contemporary young people have a fast-paced life and busy work. The time available for fitness and exercise is actually relatively limited. Especially office workers need to sit for a long time, and health problems will easily occur after a long time. This requires efficient exercise to maintain a healthy state.
Huawei WATCHFIT has built-in 12 animated fitness courses, including 44 standardized fitness exercises, which are suitable for various scenarios such as offices and homes. It is like a personal training on the wrist, allowing exercise to be carried out easily anytime, anywhere.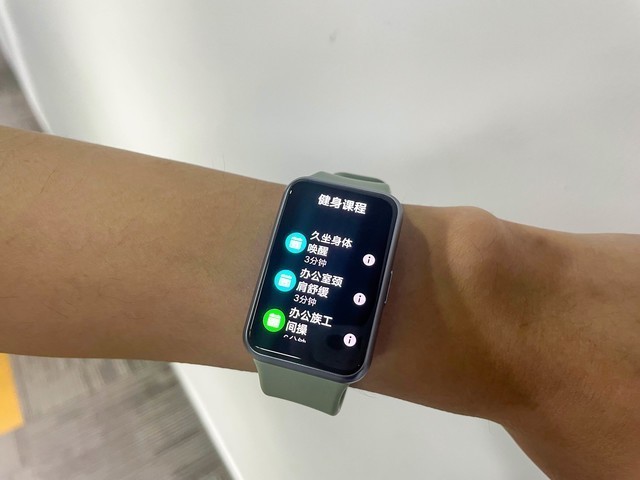 In actual use, you only need to find these courses in the "exercise-fitness courses" option of the watch, and then follow the action points demonstrated by the fitness animation on the watch to exercise. In this way, everyone can take advantage of the breaks in the office or work at home to finish the housework, stand up and follow the "personal education" for exercise anytime, anywhere, and keep the body in a healthy state through the efficient fitness of these fragmented time .
As for the content of the course, it includes a series of regular and basic exercises, such as sedentary body wake-up, office neck and shoulder relief, office work exercises, stretching and relaxation, and efficient fat burning. Although they are routine and basic, they are all scientifically proven projects that can efficiently achieve fitness goals. These actions are relatively simple. With animation demonstrations, you can quickly grasp the essentials of sports, and there is basically no learning threshold.
In addition, the details of the animated fitness personal training function are relatively complete. For example, during exercise, you can click on an action to preview the action details, or you can switch other actions by touching the left and right arrow icons on the screen.
In addition, during and after the exercise, you can check the heart rate value, heart rate zone, calorie consumption, and exercise time of the exercise through the watch and Huawei Sports Health App. After each exercise, you can grasp the effect in time. Discover the advantages of scientific fitness.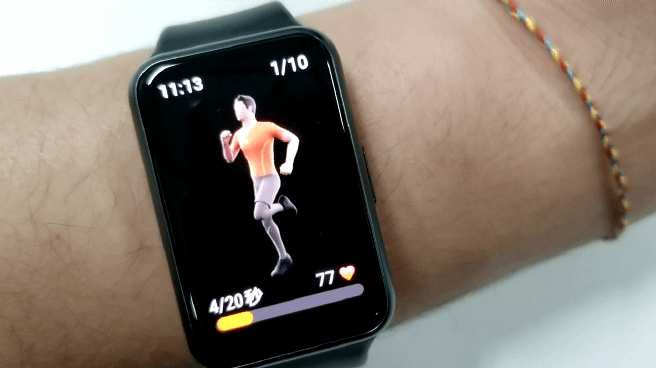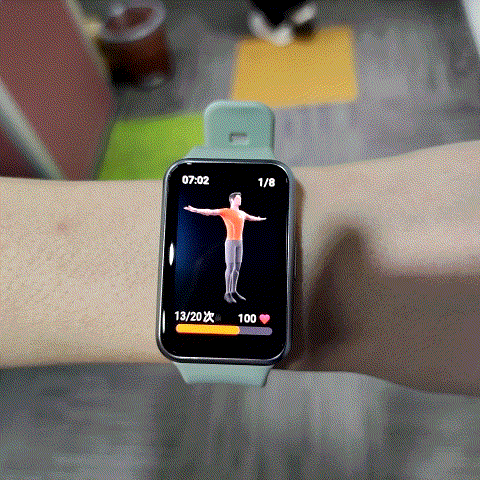 For young consumers, busy work is only a part of life. Love to try, explore, and adventure, after all, is the main color of young people. When time is free, many friends will still try more in-depth and professional sports, such as swimming, cycling, long-distance running, basketball, etc.
Well, Huawei WATCH FIT also has a wealth of built-in sports monitoring modes. When you plan to go for a long-distance ride or a kayaking competition on weekends or holidays, you will not miss scientific exercise because the watch does not support these sports. opportunity.
Specifically, Huawei WATCH FIT supports 11 professional sports modes (running, walking, cycling, swimming, elliptical machine, rowing machine) and 85 free sports modes, including fitness, dance, ball, water sports, ice and snow sports , Extreme sports, etc., basically mainstream common sports are included.
Through the built-in smart sensor, Huawei WATCH FIT can monitor your heart rate, heart rate zone, calories, exercise time and other data when you exercise.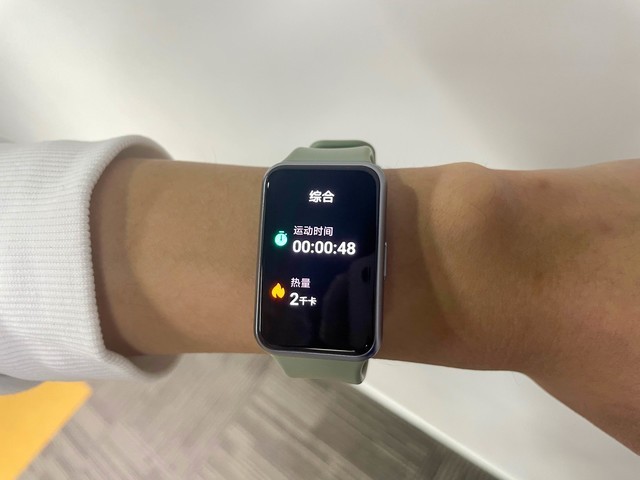 What's more intelligent is that this watch also has a built-in exercise & heart rate sensor, combined with exercise status recognition calculation, it can actively identify your exercise status. For example, when you wake up in the morning wearing Huawei Watch FIT to go for a morning run, but forget to turn on the running monitoring mode, Huawei Watch FIT will actively remind you whether you are running and where you are running. After you click confirm, the watch will enter the running mode. One sports mode.
This active monitoring function currently supports 6 sports modes including indoor and outdoor running, indoor and outdoor walking, elliptical machines, and rowing machines. I believe that more sports modes will be added in the future.
Taking outdoor walking as an example, we conducted a test. With the help of the built-in independent GPS, Huawei WATCH FIT accurately recorded the trajectory of the editor, and gave out the pace, calories burned, heart rate and other information of the walk. The detailed information of these data can be viewed in the "Huawei Sports Health" App.
During exercise, Huawei WATCH FIT also monitored the editor's real-time heart rate and heart rate interval, combined with professional exercise calculation support, and also provided professional exercise recommendations and evaluations such as maximum oxygen uptake, recovery time, and exercise effects.
For example, in terms of heart rate zones, Huawei WATCH FIT provides two heart rate zone division methods. Users can choose the division method according to their sports goals on the Huawei Sports Health App to monitor their heart rate zones instantly. Each heart rate zone represents an exercise effect, and users can adjust their exercise status in time according to their exercise goals.
With the support of these data and scientific evaluation channels, Huawei WATCH FIT allows editors to accurately grasp their own exercise effects after each exercise, and adjust exercise intensity and channels according to the exercise situation, so as to make the exercise The quality continues to improve.
In addition to exercise monitoring, another important responsibility of smart watches is to monitor the health of users, so that users can understand their health data in real time, especially for young people, who understand their health data can detect their physical existence at an early stage. The hidden health hazards, which play a preventive role.
An important selling point of Huawei WATCH FIT in health monitoring is real-time heart rate monitoring, that is, continuous, fast and accurate monitoring of the user's heart rate. This feature benefits from Huawei's fourth-generation HUAWEI TruSeenTM 4.0 heart rate monitoring technology.
Specifically, Huawei WATCH FIT can measure the user's heart rate for 24 hours and give a heart rate curve. At the same time, it can also intelligently adjust the heart rate monitoring frequency according to the activity state, and give a reminder that the static heart rate is too high/low.
In terms of heart health, Huawei WATCH FIT can also provide arrhythmia monitoring, which is a heart health research project jointly carried out by Huawei and a team of professional doctors from China 301 Hospital.
During the test, Huawei WATCH FIT can use the built-in high-precision PPG sensor and heart rate monitoring technology to monitor the user's heart rate around the clock. Especially when you have heart palpitations, fatigue, palpitation, chest tightness, shortness of breath and other symptoms, you can also take an active measurement immediately to identify health risks in time.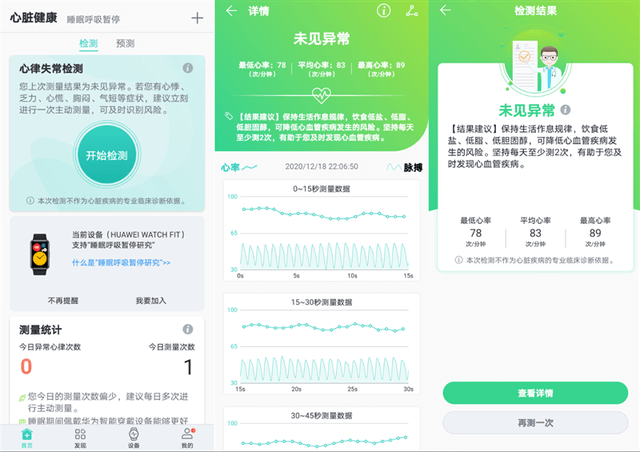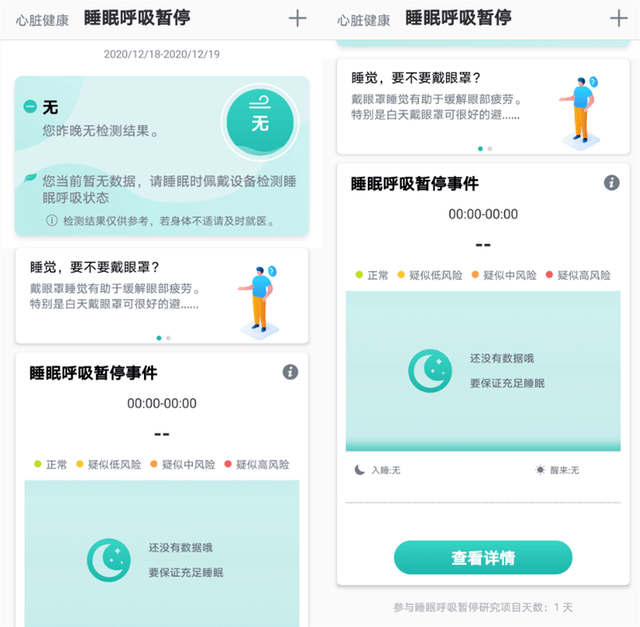 In addition to monitoring the heart rate, Huawei WATCH FIT can also perform 24/7 continuous blood oxygen monitoring. Blood oxygen saturation is an important physiological parameter of the respiratory and circulatory system. When the blood oxygen saturation is lower than 90%, it will lead to long-term hypoxia in the brain. Think about it.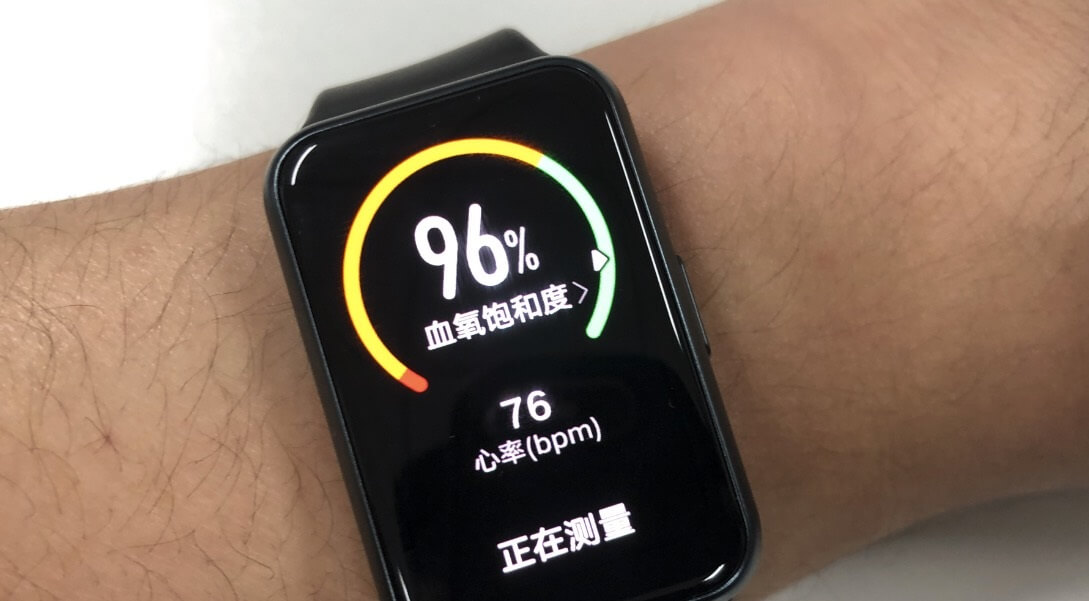 The process of measuring blood oxygen saturation with Huawei WATCH FIT is very simple and fast. Just click start in the blood oxygen saturation column, and the watch can automatically monitor blood oxygen saturation. The whole process only takes about half a minute.
For young users, if you are doing some mountain climbing or traveling to high altitude areas, you can use Huawei WATCH FIT to measure blood oxygen saturation at any time to check whether you are in danger of hypoxia.
Office workers in modern society generally have to face intense work pressure, and many people are more or less anxious. Long-term anxiety can affect their sleep status, while poor sleep quality can easily lead to many diseases. Huawei WATCH FIT also supports sleep quality monitoring and tracking functions.
Simply put, it can automatically identify the user's time to fall asleep and time to go to sleep without disturbing the user's sleep, and monitor the quality of sleep.
After the monitoring is completed, you can view your detailed sleep quality data on the Huawei Sports Health App. Huawei WATCH FIT can fully present the user's comprehensive sleep structure (including light sleep, deep sleep, REM rapid eye movement and wakefulness) including sleep and sporadic naps, and then accurately identify difficulty falling asleep, light sleep, easy awakening at night, early waking, Six types of typical sleep problems, such as dreaminess and irregular work and rest, provide hundreds of sleep improvement suggestions and personalized sleep services to guide users to sleep in the most scientific and healthy way.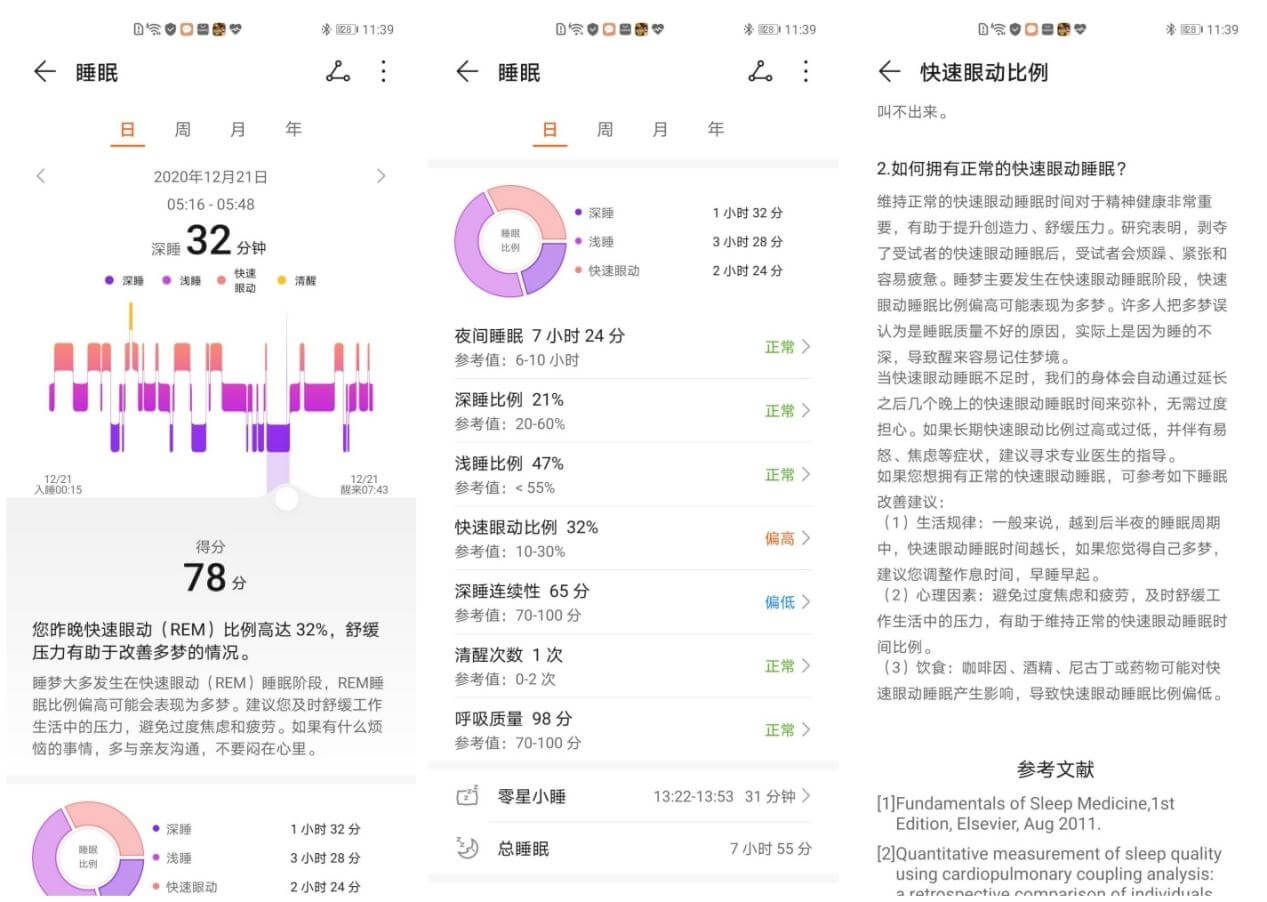 In addition to the monitoring of these health quotas, Huawei WATCH FIT also supports functions such as stress monitoring and female menstrual cycle management. IT Home feels that these health monitoring functions can not only help us discover hidden health hazards in the body early, but more importantly, can use data-based health tests and tips to help us develop healthy lifestyle habits.
In addition to sports health, Huawei WATCH FIT as a smart watch, of course, also supports some conventional wisdom capabilities. In terms of daily functions, Huawei WATCHFIT built-in NFC, you can use it at the time of the bus card/access card to use, such as music playback control, smart alarm clock, schedule reminder, watch to find mobile phones and other functions are fully realized on this watch. If you are using a Huawei mobile phone, then you can also implement special features such as situational smart push (according to the user's upcoming travel scene, push reminders of flights, high-speed rail, restaurants, weather, and schedules) and voice assistants.
In addition, Huawei WATCH FIT can also open Alipay to scan the QR code to pay. You don't need to take out your mobile phone when you pay for things. You can complete the payment by just raising your hand. In addition, Huawei WATCH FIT also has a built-in voice assistant. Long press the side button of the watch to wake up the voice assistant of the smartphone in one second. You can let the voice assistant set an alarm for the watch or turn on a certain exercise, or even control the smart home.
Finally, it's worth mentioning that Huawei's WATCH FIT's long battery life, based on the editor's experience, when the heart rate real-time monitoring function is turned on, start wearing the watch from 100% power, and the remaining power is 61% after 4 days. Based on this calculation. Under normal use, Huawei WATCH FIT is fully charged once, and it shouldn't be a problem to insist on 10 days or so. It can be seen that the battery life of this watch is still very good.
In terms of charging, Huawei WATCHFIT has convenient connection and high charging efficiency. Huawei WATCHFIT uses magnetic contact charging. The charging base can be easily paired close to the contact position, and the charging connection is convenient. In terms of charging efficiency, Huawei officially stated that Huawei WATCHFIT can charge for 5 minutes and can be used for one day. The actual charging is 5 About 10% of the power is charged in a minute, which can almost meet the power consumption of a day.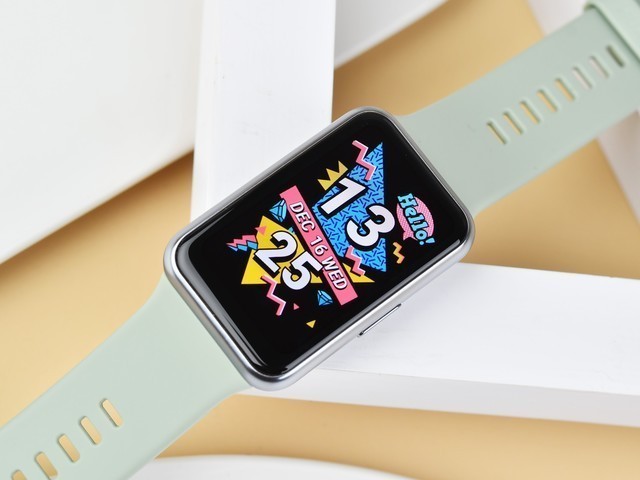 Summary: The hardware and experience are excellent, it is a flagship smart watch worth buying. Compared with the many smart watches that Huawei launched this year, the biggest feature of Huawei WATCH FIT is undoubtedly the square screen with unique proportions. Using the watch to read content under the square screen, the experience is naturally quite different from the round screen. Both the interaction and the reading habits are closer to the experience of using a mobile phone.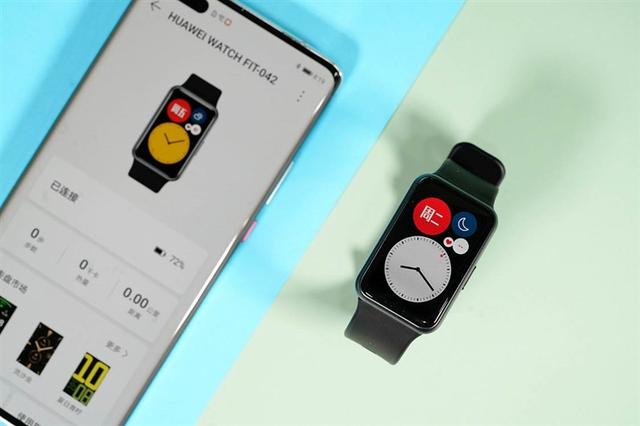 Outside of the screen, Huawei WATCH FIT is also an absolute flagship in terms of functional configuration. There are many health functions such as blood oxygen monitoring, heart rate monitoring, sleep monitoring, pressure monitoring, and even further upgrades to support continuous blood oxygen monitoring around the clock, making the function of blood oxygen saturation more convenient and practical.
In terms of sports, the independent GPS carried Huawei WATCH FIT to get rid of the shackles of mobile phones. Even if you don't need a mobile phone, you can record all the data during exercise. You can also check the effect of the exercise on the watch when you wear it lightly. There are as many as 96 sports modes, which can ensure that the auxiliary recording function can be turned on for most sports; the 12 kinds of animation fitness courses that come with it are a highlight, which is very suitable for ordinary users to follow the learning.
In terms of shortcut functions, Huawei WATCH FIT's gadgets are very complete, especially the NFC card package and mobile payment functions are sufficient to meet daily needs. On this basis, smart assistants, voice control, smart phones and other functions are even more icing on the cake, and if you are good at using them, you can add a lot of color.
Finally, the price of Huawei WATCH FIT is only 799 yuan. Compared with the traditional round watch, it is much cheaper while having the same functions. You can get a similar experience at a more affordable price. If you have a unique expression of the square Bell, it will definitely be a good choice.
It is reported that Huawei WATCH FIT ordinary models will be on sale simultaneously at 0:00 on January 8 in Huawei Mall, major authorized e-commerce platforms, Huawei experience stores and authorized retailers. Small partners who like it can continue to pay attention.